Age Range: 5 to 15 years
Yalla Yalla!   (arabic: Let's Go) | Middle Eastern Music
The children are taken on a musical journey to the orient
They are introduced  to various oriental  instruments zorna(oboe), mijwiz (clarinet),ney (flute), quartertone accordion, percussion and voice.
The children are lead in song, rhythm and movement to music of Egypt, Lebanon and Turkey.
Rhythm backing and amplifier used for dancing etc.
Song words and a booklet of worksheets supplied.
A Middle-Eastern dancer  dances and teaches basic movements of Middle-Eastern danceand their relationship to the instruments.
Phil Carroll,  an experienced Primary Teacher, works  the Melbourne-based middle-eastern music and dance group  Alwan.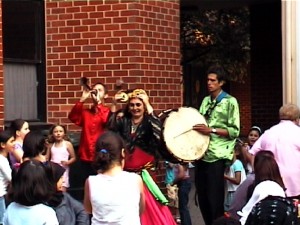 He has played in festivals in Australia and overseas and  has lived and studied music in Egypt and Turkey.
"We loved the Arabic music you played for us"

"We liked the Turkish dance" Children, Fitzroy PS

"Your instruments were good and the sounds were terrific" Westmeadows Heights PS
Booking details
Contact: (03) 8060 1232
Mobile: 0412 148 906 or music@globalgrooves.com.au
The Solo Shows are suitable for students 5 to 15 years of age.
Length of show: 50 -60 minutes.
COST
DUO :.$900 (audiences up to 130 students). $7 head for students in excess of 130.
If more than one show booked in a day :$825 per show (excess students over 130 : $7/head).
Dancer and drummer extra fee by arrangement.