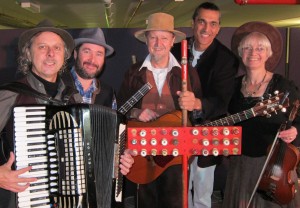 We have been playing lively Australian folk music and dances around the country for 25 years.
Their dances are a heap of fun ,with traditional dances being altered for an extra twist, under the zany direction of our caller.
The music ranges from traditional Australian and Celtic tunes and ballads .We even do a good selection of contemporary and rocky numbers.
Featuring guitar, accordion,violin ,vocals, bass, lagerphone and caller.
Performances
Dances, parties and school shows including: CUB promotion, RACV club, Carey Grammar School, Mt Eliza Primary School, Vic Uni International Students, Sunbury 200th celebrations, Mentone Girls Grammar , RSLs, Lauriston Girls School. etc etc
Quotes
Feedback was very good from the night. Everyone felt that you provided a great range of songs and the night went really well. We would certainly book you again if we were to run it in the future.Thanks for a great night of entertainment. Kate Coco, Carey Grammar School, family bush dance.

A BIG thank you for coming out on Sunday to perform for the students. Much appreciated!We had over 360 come through the day, we are very happy with the result. Douglas Tsoi. Project Manager – Victoria's International Student Information Day 2011

Thank you to you and the band for a great time last Saturday. Everyone had a fantastic day, especially me! I am happy to recommend and refer you guys any time … Once again thanks for the entertainment and all the best. Jillian (Werribee birthday)


Thank you so much , so many people said they loved the music and dancing and Liam and I did too! You guys are great! Wendy Paton (Kinglake Wedding )
Repertoire

Dances
Barn Dance
Drongo (Nine Pins Quadrille)
Flying Pieman
Gallopede
Heel&Toe Polka
Kangeroo Hop
Manchester Gallop
Pride Of Erin

Queensland Backstep (Virginia Reel)
Stockyards (Circassian Circle)
Strip The Willow
Troika
Waves Of Bondi (Waves of Tory)

Game/Dances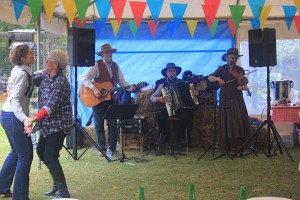 Chicken Dance
Heads and Tails
Hokey Pokey
Knights,Cavaliers,
Cavemen
Limbo
Musical Chairs
Spin The Bottle
Macarena
Tunes
Scottish Medleys
Waltzes
Tangos
Zorba The Greek
Tarantellas
Fiddle Rag
Songs
Traditional Aussie
All For Me grog
Augethella Station
Ben Hall
Billy Of Tea
Botany Bay
Black Velvet Band
Click Go The shears
Euabalong Ball
Lord Franklin
Maggie May
Old Bark hut
One Of The Has beens
Poor Ned kelly
Ryebuck ShearerShores Of Botany Bay
South Australia
Springtime Brings On The Shearin
Streets Of Forbes
The Catalpa
Wallaby Stew
Waltzing Matilda
Wild Colonial Boy
Wooloomooloo Lair
Irish/Scottish
Dirty Ol town
From Claire to Here
I Will Love You
Irish Blessing
Last House In The Street
One Day At A Time
Red Is The Rose
Sweet Sixteen
The voyage
Town I Love So Well
500 Hundred Miles

Childrens Songs
Wiggles
Peter Coombes
Playschool
etc.
Australian Contemporary
Charlie Turra
Diamantina Drover
I AM Australian
I Still Call Australia Home
Pioneers
Tie Me Kangeroo Down Sport
whaling Song
Big Bad Bushranger
Home Among The Gum Trees
Eric Bogle
And The Band Played Waltzing Matilda
Aussie barBQ
If Wishes were fishes
No Mans land
Now Im easy
Reason For It All
Shelter
Somebodys Moggy
John Williamson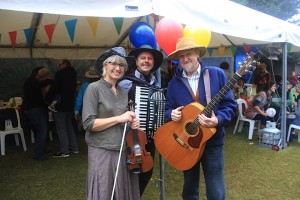 Cootamundra Wattle
Galleries Of Pink Galahs
raining On The rock
Pop / Other
First Tim/ Saw Your Face
Jamaican Farewell
Lets Twist Again
Roll In Sweet Babys Arms
Six Ribbons
Streets Of London
Under The Boardwalk
Lion Sleeps Tonight
Moondance
We May Never Meet Again
Paul Kelly various
RocknRoll various
Eagle Rock
Blue Moon
If I Were Carpenter
Brown Eyed Girl