Jazz/Swing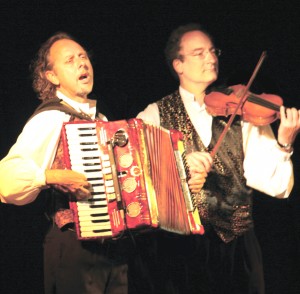 Violinist Ernie Gruner and accordionist/singer Phil Carroll play Gypsy, Klezmer, Middle-Eastern, French, Italian, Russian, jazz and tango music which range from soulful to wild. They have both studied overseas, and play and record together in larger bands (Klezmeritis, Yalla!, Flirting Mazurkas).
Australian concerts highlights include the National Folk Festival and National Multicultural Festival. Phil and Ernie's three NZ tours have included the Wellington Folk Festival and the Christchurch Jazz Festival.
Ernie specializes in Jewish music and Phil specializes in Middle-Eastern music. They have worked together with theatre and dance events for Russian, Armenian, Jewish, Turkish, French and Italian and other productions and communities, as well as parties and weddings.
CD available here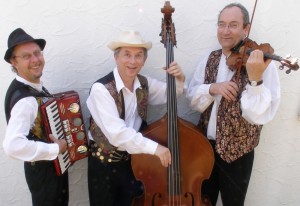 BOHEMIAN NIGHTS are as experienced at concerts as at the European artform of serenading at tables and taking requests as well as creating atmosphere in a street festival.
The duo was originally named Gypsy Nights after a famous duo that entertained in the restaurants and cafes of Budapest in the 1930s.
Selected Performances
residency at The Block Arcade, The Regent, RACV Club, Titanic Theatre Restaurant, Melbourne Food and Wine Festivals, Australian Short Story Awards, Boorondara Federation Dinner, Bundoora Art Gallery opening. Theatre Collaborations : Theatro Chameleon (Blue Absence), Mt Waverley Theatre (Emma Celebrazione),many corporate functions, weddings, parties, shopping centres, as well as concerts and festivals.
Bohemian Nights can also play for functions with Phil playing keyboards or piano.
PA is available and depending on the event and if dancing is preferred a double bass and drums, guitar, vocalist etc may be added.
Quotes
Your performance added immeasurably to the event – it put everyone in a fantastic party mood. Mary Lou Jelbart – fortyfivedownstairs 2005

It was a fantastic concert, what a way to start the series, people are still raving about it all over town.Anna Shaw WANAKA New Zealand Tour July 2005
It was a pleasure to see you again and enjoy your fabulous concert; we had a lot of positive feedback Mathilda Schorer PUKEHOE New Zealand Tour July 2005

Bohemian Nights Wedding Band:
Thank you so so much for the wonderful music the other night. It was perfect for the night and I am glad that I put off my party that extra month so that you guys would be back to play.
A lot of people commented on how fantastic the music and the dancing was, it lifted everything in a swirl of fabulous atmosphere.
The sensitive and affecting musical accompaniment by Ernie Gruner and Phillip Carroll was exemplary… one of the best productions I saw in 2002. Bagryana Popov July 2005
Russian Soup – Theatre based on Chekov, Gogol, Dostoevsky short stories with traditional and original music by Gypsy Nights, actors : Josef Sherman, Greg Ulfan, director: John Bolton; review by Malcolm Robertson
Gypsy Nights got the audience clapping along with their accordion and fiddle before the evening began The Age review of Theatre Cameleon 2001

Gypsy Nights treated the audience to a dazzling display of Eastern European and Middle-Eastern music…Ernie's virtuoso violin thrilled the audience, and its expressive lyricism – together with Phil's lively and complex accordion – brought to life the cafe scene of Budapest and Paris in the 1930's. Played with sensitivity and humor, the music generated an energy that could only be expressed through dancing Wyreena Arts Centre 2002

Awesome performance Greymouth NZ

Bloody great night Wellington Folk Club NZ

Great to see people so passionately involved in keeping alive such colorful musical traditions….their music speaks to everyone Penguin Club NZ

A quiet night was NOT had by patrons of The Conservatory Café at Wyreena Community Arts Centre in Croydon on Friday night. Gypsy Nights, with Ernie Gruner on violin and Phil Carroll on accordion, vocals and nez (an Egyptian flute made of bamboo from the Nile) treated the audience to a dazzling display of Eastern European and Middle Eastern music. Ernie's virtuoso violin thrilled the audience, and its expressive lyricism – together with Phil's lively and complex accordion – brought to life the café scene of Budapest and Paris in the 1930s. Played with sensitivity and humour, the music generated an energy that could only be expressed through dancing.
Review: GYPSY NIGHTS AT WYREENA, Friday 14th December, 2001
Bloody great night Unda th'Rotunda last night – Ernie & Phil (details escape me) demonstrated how to be authenteekly Kosher (they were from Melbourne) in about 15 different languages, inc. that spoken by Nile reeds. Wellington NZ review
Repertoire
We take requests!!!
Aint Misbehavin(vocals)
Beginning To See The Light
Don'tMeanAThing(vocals)
Is You Is(vocals)
Makin Whoopee(vocals)
Minor Swing
My Blue Heaven(vocals)
Pennies From Heaven
Please Dont Talk About Me
Polkadots and Moonbeams
Sentimental Journey
T'aint What You Do
The Glory Of Love

Jewish
Ale Brider (vocals)
Bei Mir Bist du Schon(vocals)
Fiddler On The Roof
Hava Nagilah(vocals)
Klezmer Tunes
Mazeltov
Shalom Alachem(vocals)
Tum Balalaika (vocals)
German
Beer Barrell Polka
Ein Prosit
Luxemburg Polka
Valerie Valera
Classical
Boccherini
Cavatina
Habanera
Liebestraum
Pachelbel's Cannon
Strauss Waltzes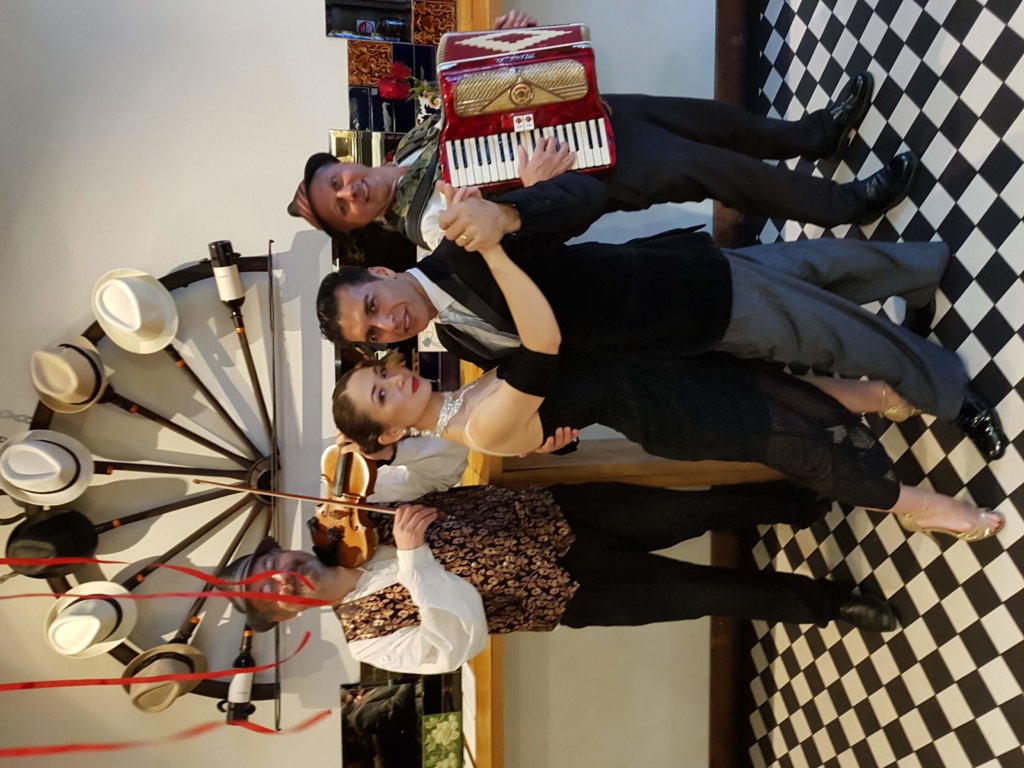 Anglo/Folk
Jig Medley
Reel Medley
Londonerry Air
Ashoken Farewell
Sailors Hornpipe
Irish Waltzes
Irish Eyes(vocals)
Danny Boy(vocals)
French
A Man And A woman
Alouette (vocals)
Autumn Leaves
CanCan
C'est Si Bon
Charade
I Wish you Love
I Love Paris
If I Stay Forever
J'Attendrai
Je Ne Regrette Rien
La Mer
La Foulle
La Goulante(vocals)
La Mer
La Seine
La Vie En Rose(vocals)
L'Accordioniste:
Le Marsellaise
Les Miserables
Les Negresses Vertes Waltz
Mi Lord(vocals)
Michelle:
Moulin Rouge
Padam:
Paris Tango
Petite Fleur
Pigalle
Plaisir D'Amour
Sous le Ciel de Paris
Sous Le Pont de Paris
Third Man Theme
Tintine (vocals)
Tit Galop(vocals)
Under The Bridges Of Paris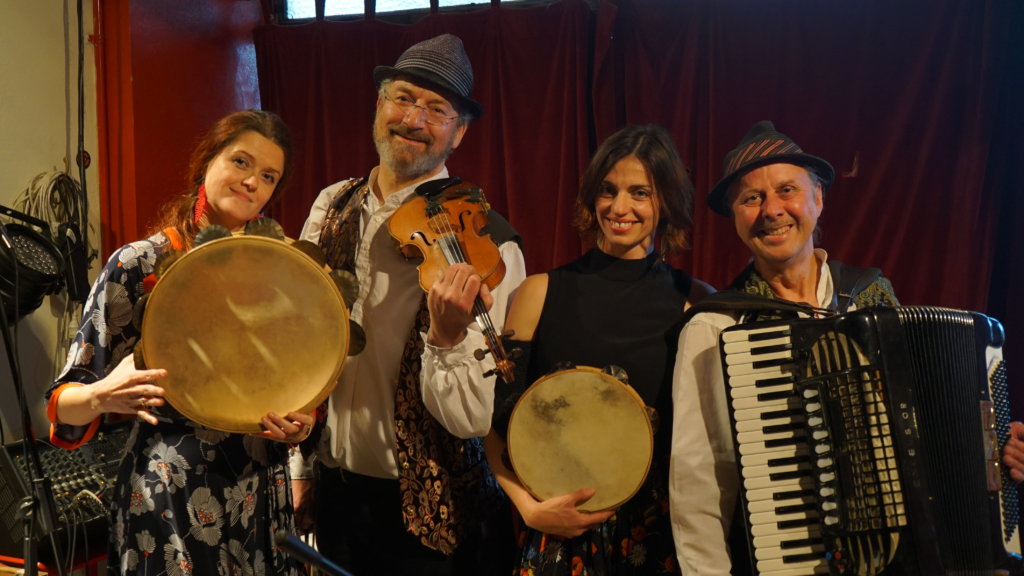 Greek
Never On A Sunday
Ruby My Love
White Dove Of Athens
Zorba
Gypsy/Russian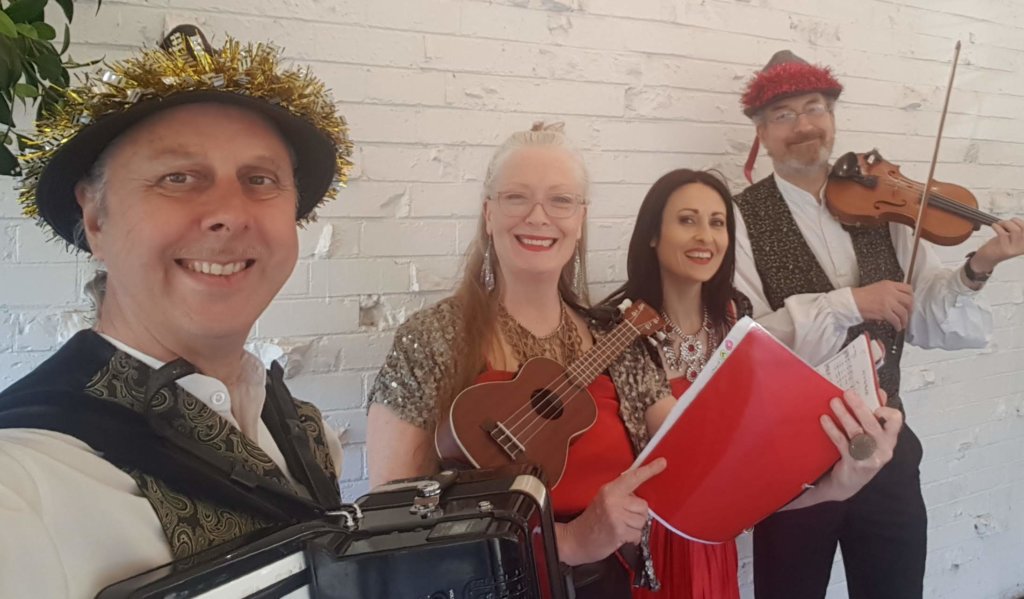 Czardis (Monti)
Czardis (Russian)
Dark Eyes(vocals)
Hungarian Dance no.5
Kalinka(vocals)
Katuisha(vocals)
Lara's Theme
Those Were The Days(vocals)
Troika Medley

Italian
Arriverderci Roma
Bella Ciao:
Calabrisella Mia
Campagnolla Bella:
Cappricioni Italiano
Carnival Of Venice
Chicken (Duck) Dance
Ciao Ciao Bambino
Come Back To Sorrento
Come Prima
Come Tu Facetta Mametto
ConTe Partiro (Bocelli:)
Cuiccio Bedu:
Finiculi Finicula (vocals)
Forget About Domani
Godfather Theme
Isle Of Capri
Libiamo (Verdi)
Love Story
Mambo Italiano(vocals)
Marina(vocals)
More
Nessun Dorma
Non Dimenticar
O Solo Mio
Quando quando
Que Sera
Ragazzioni(Veni Veni)
Romeo and Juliette
Santa Lucia
Tarantellas (vocals)
That's Amore (vocals)
Three Coins in The Fountain
Tiamo
Tiribomba
Un Mazziolini Fiori
Volare(vocals)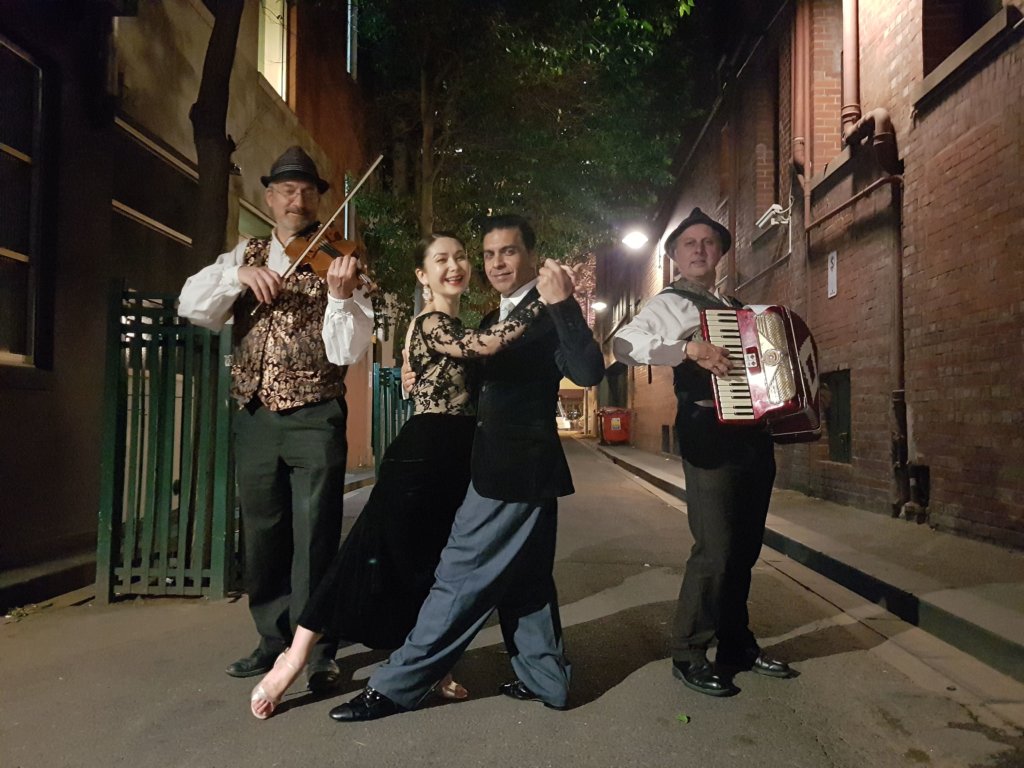 Latin
Bessame Mucho(vocals)
Black Orpheus
El Cumbenchero(vocals)
Hernando's Hideaway(vocals)
Jealousy:
La Paloma
Perfidia
Sway
Tangos
Tequila
Y Viva Espana(vocals)
plus
Serbian
Polish
Croatian
Arabic
Turkish
Macedonian
Christmas
Oldtime
etc.
CD AVAILABLE HERE