(Hindi for "Vagabond" )
Avara is a quartet from across Australia, comprising of musicians Paul Koerbin (baglama, oud, vocals), Phil Carroll (ney, kaval, mey, accordion), Philip Griffin (bass) and Andy Busuttil (drum, vocals).
They have a passion for music from the middle-east where they have studied and lived. The musicians have played with each other in different combinations over the years and now come together in a magical union of sublime songs, melodies, tones and rhythms.
Repertoire includes Anatolian and Alevi folk music with baglama . They also play Bektashi music , the urban mystical music using ud (lute) , 'nefes' (simple tunes) and some Ottoman instrumental pieces (pesrev, saz semaisi) .
Paul Koerbin was part of many groups that made a mark on the National Folk Festival in the late 1970s and 1980s including the Tasmania groups Finnegan's Wake and Fagus, the Balkan fusion band Churinga and one of Australia's most successful world music ensembles Sirocco. He was also a member of the Iranian folk group Nakisa and the early music ensemble The Renaissance Players. In more recent years he has focused on studying and performing Turkish Alevi music on the baglama." https://koerbin.wordpress.com/about/
Andy Busuttil, percussionist, vocalist, winds player from the Blue Mountains. He has specialised in music about his home islands of Malta, Middle Eastern and Balkan music. He has performed with The Bridge Project, Skorba, Equus, Xenos, Nakisa, Drum Arabic, Oud Vibrations and many other combos. https://bluemountainsound.com.au/our-people/
Phil Carroll has been playing middle-eastern music for 20 years. He has studied Ney, Mey, Kaval, Quartertone accordion and Zurna (mizmar) in Turkey, Egypt and Morocco. He has played with La Kasbah (Moroccan), Ta'esh Fa'esh and the sufi group Sanctuary ensemble . He has lead the band Yalla! for over 10 years playing at festivals in every Australian state with one CD. He has played in Alwan who have made one CD. He also plays in the Australian Arabic Orchestra. He has taught middle-eastern music at camps, festivals and NMIT. https://www.globalgrooves.com.au/oriental/
Philip Griffin plays bass, guitar and oud. He has played International Festivals with Ross Daly (international string virtuoso). He made Baroque Music performance on period instruments (theorbo and baroque guitar)
with Affetto (leading NZ Baroque ensemble) and he has toured internationally performing Balkan gypsy music with Xenos. https://www.philipgriffin.com/perf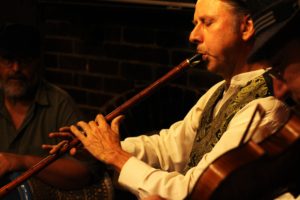 Phil and Andy at The Boite, Melbourne 2016
Andy in Skorba
Philip Griffin on oud

Phil and Andy at Middle Eastern Dance and Music Camp, Queensland, 2014.