Age Range: P-12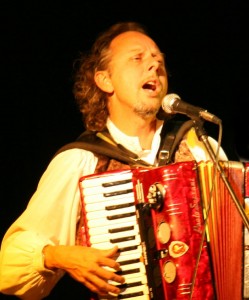 'Around Europe and Beyond' with Filippo
Filippo the accordionist is a superb musical entertainer.
He sings in French, Italian, Arabic, Greek, Spanish, Turkish, Yiddish, Russian, Ukranian, Hebrew, English, Romany, Serbian, Macedonian, Croatian ….
He plays music from 100 countries and cultures, including Asian countries, and teaches folk songs and dances from all around the world.
He plays various ethnic wind instruments : Ney (Turkey) Duduk (Armenia) Ti-tzu (China) Mizmar (Egypt) Penny whistle (Ireland)
"The program was enjoyed by students all students prep to 6 as well as by the teachers." E. Hornby, Goonawarra Primary School, VIC.
Performances
Holy Family Primary School Geelong (Croatian/ English) Broadmeadows Special Development School (Middle-eastern), Westmeadows Heights Primary (middle-eastern), Malvern Central(mixture) , MLC Kew(Jewish Klezmer), Wesley Prahran (Middle-eastern),Sydenham-Hillside Primary School (Serbian, Macedonian , Italian).
Filippo on Video
Booking details
Show Fee:
$600 (audiences up to 130 students). $5 per student over 130.
If more than one show booked in a day :$525 per show (additional students $5 each).
WORKSHEETS are provided for show
LENGTH OF SHOW 50 -60 minutes.