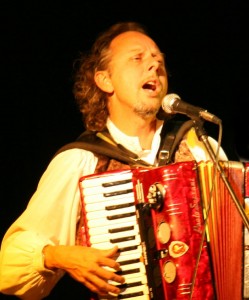 Phil Carroll  is a superb musical entertainer, playing accordion and singing. His repertoire is huge taking any requests and singing in over 20 languages. His accordion is perfect for roving as the sound floats into the distance.
He plays for weddings, barmitzvahs anything.
Last year he featured on the Front Bar Footy show a few times as Herb the Accordionist.
He runs various Italian and French shows in schools. 
He has recorded for Paul Kelly and played on the Australian  movies Ali's Wedding , Romulus My Father,  Miss Fisher and the Crypt of Tears and Wog Boy 3.
He played on 60 TV episodes with Gabriel Gate's "Taste le Tour".
 Filippo Roving:
He sings in   French, Italian, Arabic, Greek, Spanish, Turkish, Yiddish, Russian, Ukranian, Hebrew, English, Romany, Serbian, Croatian, Macedonian, German, Chinese, Vietnamese, Filipino, Japanese, Western Aranda, Hungarian, etc
He also  plays tunes from 100 countries including Sweden, Switzerland,  Poland,  Slovenia, Czech Republic ,  India, Africa etc.
Filippo playing for a Seniors Dance :
Markets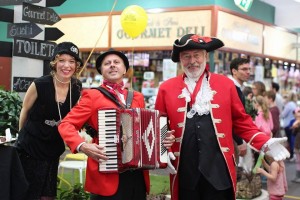 Special Events
Weddings and Birthdays
Filippo  has a great ability to make people laugh, dance and sing along and create general merriment. With European, ballads and popular, Phil specialises in French and Italian music. He can play for children and aged audiences
Festivals

PERFORMANCES include   Melbourne Recital Centre, festivals, restaurants,  shopping centres, aged care facilities  and over 300 school shows. He has made 60 appearances  on SBS-TV with Gabriel Gate on Tour .
French
Italian
Oktoberfest
Tango  Ensemble
Jazz
Multicultural
Quotes

"Phil Carroll is an amazing and extremely versatile entertainer. He is extremely talented, has huge repertoire of songs from around the world and plays many Instruments.
The seniors in our programs always enjoy his entertainment as he brings lots of energy and enthusiasm into his shows. No one can stay immune to his uplifting music and the audience joins him in sing along and dancing to the beautiful tunes he plays on his accordion".                                                                                                                                                                                   Jagoda Koteska | Positive Ageing Officer. City of Whittlesea

Filippo is very accomplished at playing Italian Folk Music
– Rosanna Bagnato, Donburn Primary School, VIC
We all thought you were brilliant, you created a great atmosphere and had the oldies completely involved.  Thankyou very much, hope to see you at our next function.
– Vanda Paris, Manningham Italian Social Club.
Grazie mille for the great job you did in including all languages. The evaluation responses were very affirming and positive.
– Conference organizer , Ballarat
You were an inspiration and when we grow up we want to be like you
– Grade 6 boy Canterbury Primary
Thank you thank you! The afternoon was fabulous; the comments and feedback were very positive. One clients wife thanked us as she had not had a dance with her husband for 14years and really appreciated the opportunity… well done!
– Janice Poynton   Bayside Council
Thank you so much for your wonderful playing on Sunday. I had lots of great feedback from people. The oldies and youngies really enjoyed it!
– Rosa Campagnaro (Director) Make A Scene
I think you were the highlight of the event and it was great to see people join in for a singalong and start the conga line around the room.
– Janette Scott . Yarra Ranges Council. Seniors event 

Mark and I wanted to thank you for playing at our wedding. We have had lots of our guests compliment you and the songs you played – many labelling it as one of the best parts of the evening.
Stacey and Mark Oteri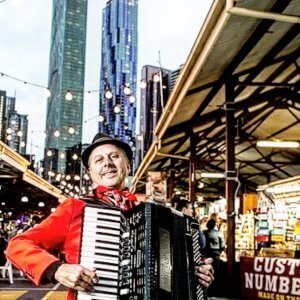 Repertoire (selected)                           
ITALIAN
Anvil Chorus
Arriverderci Roma
Ave Maria
Bella Ciao:
Calabrisella Mia
Cappricioni Italiano
Carnival Of Venice
Chicken Dance
Ciao Ciao Bambino
Come Back To Sorrento
Come Prima
CuiccioBedu
Finiculi Finicula
Forget About Domani
Godfather Theme
Granada
Love Story
Magdalena
Mambo Italiano
Marina
Mattinata
Nessun Dorma
Non Dimenticar
O Solo Mio
Quando quando
Ragazzioni(Veni Veni)
Romeo and Juliette
Said The Mama To The Papa
Santa Lucia
Tarantella
Tarantella Calabrese:
That's Amore
Tinterella Di Luna
Three Coins in The Fountain
Tiribomba
Volare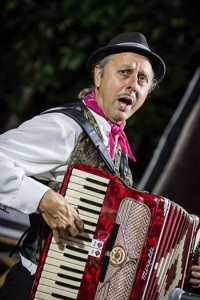 FRENCH
A Man And A woman
Alouette
Autumn  Leaves
C'est  Si  Bon
Charade
Circus Waltz
Claire De Lune
Dance THe Old FAshioned Way
I  Wish you Love
I Love Paris
If I Stay Forever
J'Attendrai
Je ne Regrette Rien
L'Accordioniste
La  Mer
La Foulle
La Goulante de Pauvre Jean
La Seine
La Vie en Rose
Les Mis:On My Own
Les Miserables:I Dreamed A Dream
Libertango
Michelle
Milord
Moulin Rouge
Padam
Petite Fleur
Plaisir D'Amour
Sous le Ciel de Paris
Thank Heavens For Little Girls
Third Man Theme
Under The Bridges Of Paris
What Are You Doing -Rest O Y Life
GREEK
Drum DroomDroom
FRAGkOSIRIANI
gerakina-
Hassapaserviko
hassapikos
Marias Kalamatiano
Mela ma kokina
Miserlou
Never on a sunday
Pera Stous
Ruby my love
Sallasana
Samiotissa:
Shinna nai
uskudar (katibimin)
White rose of athens
who pays the ferryman
zalongu
Zorba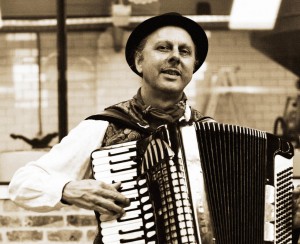 JEWISH/GYPSY
Bei Mir Bist du Schon
Brahms no.5
Ciribom
Czardas
Donna Donna
Fiddler On The Roof
Hava  Nagila
Mazel Tov
Miserlou
Nigun Atik/Od Lo a Hafto Di
Those Were The Days
Tum Balalaika
Yiddish Mama
RUSSIAN
Dark Eyes
Kalinka
Katiusha
Laras Theme
Moscow
Russia to Moscow
Those Were The Days
Troika
LATIN/SPANISH
Adios
Besame Mucho
Black Orpheus
Brazil
Carioca
Cielito  Lindo
El  Bayon
El  Condor  Pasa
El  Cumbanchero
Girl From Ipanema
Guantanamera
La  Bamba
La  Cucaracha
La Paloma
Lambada
Macarena
Manana  /  Quando Quando
Oye  Como  Va
Para Siempre Amigos
Peanut  Vendor
Perfidia
South  of  the  Border
Sway
Tequila
Tico  Tico
Y  Viva  Espana
CARRIBBEAN/CALYPSO
Rum  and  Coke
Jamaica Farewell
Deo /Banana Boat
Marianne
Yellow Bird
IRISH
Ashoken Farewell
Danny Boy
Dirty Ol Tow
Irish Washerwoman
Maggie
When Irish Eyes
CLASSICAL
Fireworks
Greensleeves
Gymnopedie
Humoresque
Strauss  Waltz
Fur Elise
TANGOS
Hernandos Hideaway
Jalousie
La Cumparsita
Ring Of Fire
MIDDLE-EASTERN
Mustafa
Ayazein
Salamat
Uskudar
Pinar Basi etc.
Imsallah
ROCKnRoll
A Hard Days Night
Sweet Caroline
All Shook Up
Back In Th USSR
Bad Bad Leroy
Blue Suede Shoes
Burning Love
Brown Eyed Girl
Crocodile Rock
Drive My Car
Everybody Needs Somebody.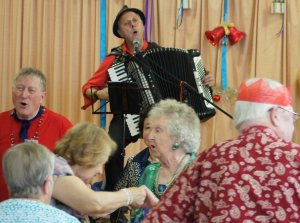 Get Back
Great Balls Of Fire
Heartbreak Hotel
Hound dog
Im A Beleiver
Jailhouse Rock
Lion Sleeps Tonight
OdlaDi OblaDa
Old Time Rockn Roll
Rock Around The Clock
See You Later Alligator
Shake Rattle and Roll
She Loves You
Sweet Caroline
Teddy Bear
Ticket To Ride
Twist Again
La Bamba/Twist and Shout
Under The Boardwalk
When Im 64
With a Little Help F M  Friends
Yellow Submarine
DANCE
Hokey Pokey
Lambada
Limbo
Macarena
Nutbush
JAZZ BALLADS
Aint Misbehavin
All Of Me
As Time goes By
Begin The Beguine
Black and White Rag
Blue Skies
Caravan
Cheek To Cheek
Don't Fence Me In
Dream A Little Dream
Fly Me TO THe Moon
Georgia
Honeysuckle  Rose
I Got Rhythm
I Left My Heart
In THe Mood
Is You is
Istanbul
It don't  mean a Thing
It's A Sin To tell A Lie
I've Got You Under My Skin
Love  Me or Leave  Me
Mack The Knife
Minor Swing
Misty
My Way
New York, New York
Night And Day
Our  Love is here to Stay
Pennies From Heaven
Polkadots and Moonbeams
PuttingOnTheRitz
Rock Around The Clock
Scotch  'n  Soda
Sentimental Journey
September  Song
September In The Rain
Stormy Weather
Summertime
Sunny
Sweet Sue
The Entertainer
The Glory Of Love
They can't take that Away
What a Wonderful World
Whoopee
SENTIMENTAL FAVOURITES
All I Have To Do Is Dream
Anniversary Waltz
Beer Barrell Polka
Chess-I Know Him So Well
Delilah
Dream
Exodus
Feelings
Greensleeves
I Just Called To Say I Love
I Still Call Australia Home
LillyMarlene
Memory(CATS)
Moon River
Phantom:All, I Ask Of You
Pretend
Say Goodbye
Sealed With A Kiss
Seekers: Morningtown Ride
Send In The Clowns
Six Ribbons
Smile
Smoke Gets In Your Eyes
Stairway To Heaven
Thanks For The Memory
Try To Remember
Unchained Melody
What The World Needs Now
Wooden Heart
Yesterday
OLD TIME SINGALONG
After you've gone
Alexander's ragtime band
Always
Are you lonesome tonight?
Blue moon,
Bye bye bye blackbird
California here i come
Carolina in the morning
Four leaf clover
Heart of my heart",
lilli marlene
hey look me over
I'll take you home again, kath
Isle of capri
It had to be you
My blue heaven
On the sunny side of the street
Side by side
You made me love you
CHILDRENS
Bananas
HowMuchDoggie?
HumptyDumpty
Muppets
Old McDonald/Tall Cows
PlaySchool
Teddys Picnic
A Sailor Went To see
She'll Be Coming
TV
IDream Jeannie/AdamsFamily
MrEd/Flipper/Skippy/PinkPanther
OTHER
Japanese:
Sukiyaki
Song Of 4 Seasons
Chinese :
New Year Song