Phil Beggs (guitar/vocals) and Phil Carroll (accordion, whistles, vocals)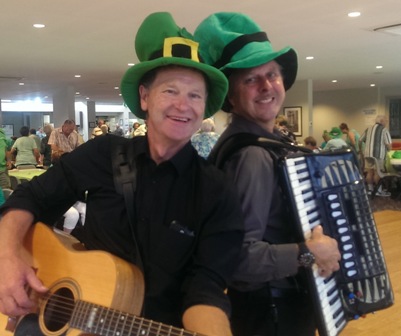 Irish and Australian songs and tunes.
They have performed for St Patricks , weddings etc.
They have played together for 25 years at countless dances and concerts.
Phil Beggs won the Port Fairy Song Contest twice.
They have played Emu Bottom , Beaumaris RSL, Richmond Town Hall, Cheltenham RSL , Korumburra primary school , Mulgrave country club, Moonee Valley City Council , Chelsea RSL and many more.
Thank you to you and the band for a great time last Saturday. Everyone had a fantastic day, especially me! I am happy to recommend and refer you guys any time

Jillian Velinos, Werribee
Thank you so much , so many people said they loved the music and dancing and Liam and I did too! You guys are great!

Wendy Paton. London Bushcraft and Foraging
I just wanted to get in touch with you to say thank you to you all for such a wonderful evening on the 5th March at the farm. Andee and I had an absolute ball, and all of our guests have said the same thing. It really was great fun, and we felt that you guys really got the crowd going. It was a shame for the evening to end. Everyone has commented on the music, and we are thrilled that everyone had such fun.

Thanks also for the CDs from Phill Beggs.

Kylie Peters
Irish Songs
All For Me Grog
Band Played Waltzing Matilda
Bellfast Mill
Black Is The Colour
Black Velvet Band
Bright Blue Rose
Bright Side Of The Road
Brown Eyed Girl
Carrickfergus
Dance For Your daddy
Danny Boy
Dennis O'Reilly
Dirty Old Town
Fields Of Athenry
Four Green Fields
From Clare To Here
Galway Bay
Galway Girl
Give Ireland Back to The Irish
God Save Ireland For The Irish
Green Fields Of France
Green Fields of France (William McBride)
Gypsy Rover
I Will Love You
It's A Long Way To Tipperary
Last House In Our Street
Leaving of Liverpool
MacNamara's Band
Maggie
Maries Wedding
Molly Malone
Moon Dance
Mountains of Mourne
New York Girls
Parting Glass
Poor Ned
Raggle Taggle Gypsy
Raglan Road
Rare Old Times
Red Is The Rose
Rose of Tralee
Shadowland
She Moved through The Fair
Shores Of Botany Bay
Song For Ireland
Star Of The County Down
Still Haven't Found
Tell Me Ma
The Leaving Of Liverpool
The Mountains Of Mourne
The Orange And The Green
The Town I Love So Well
The Unicorn
The Voyage
The Water Is Wide
The Whistling Gypsy
The Wild Rover
They're Cuttin Hay In Dromore
Van Dieman's Land
When Irish Eyes Are Smiling
When You Were Sweet Sixteen
Whiskey In The Jar
Wild Colonial Boy
Wild Mountain Time
Will ye go lassie go
Wind In the Willows
Contact Phil on 0412148906
music@globalgrooves.com.au