Schunkel Band
A rollicking load of fun with Traditional Schunkel ( swaying) music.
We play as a duo, trio or quartet……..
with Accordion, Tuba, Trombone,  Trumpet, Violin, Drums  and Vocals
See our videos:
The night was a great success and everyone loved your entertainment.
I found out yesterday that one of our customers sang with you! This is great!
Zoe Petersen, Mercedes-Benz Ballarat
Solo Accordionist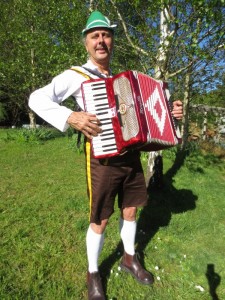 Phil has played at annual RACV Oktoberfest celebrations , Cuckoo Restaurant,  German/ Austrian  weddings and birthdays , Oktoberfest celebrations etc
REPERTOIRE
POLKAS/MARCHES
Alte Kamerade
Beer Barrel Polka
Doudledska Polka
Drei Lederne Strumpf
Grandfather polka
Happy Wanderer
Liechtensteiner polka
Mainzer polka
Natanger Polka
Pennsylvania
radetsky march
Trompeten
Zepperl polka
Zigeuner
Helena polka
Krakoviak
Tick Tock polka
Picnic polka
Marina Marina
Chicken Dance
Fliegerlied
99 Luftballoons
Country Roads
Sweet Caroline
Esel-Lied
Brown Jug polka
Tannhauser March
Tatzelwurm
WALTZES
Ach  Du Lieber Augustin  40 C
Cuckoo Waltz   41 C
Drahpolka 42 G
Edelweiss  43 G
In Munchen..Hofbrauhaus 44 C
Trink Trink 45 D
  Du Du Liegst
Blue Danube
O Isabella
Oom pah pah
Barcarolle
carnival of animals
Drink drink
Kornblumen Blau
Schon ist Die liebe
Foxtrot
Muss i Denn (Wooden Heart)
mack the knife
 Auf Wiedersehn
Bei Mir Bist du Schon
Dankershon
september song
SONGS
Seemann
Lily Marlene
Doh a deer
Delilah D-
OTHER
Ein Prosit
Falling in love again – dietrich
Fur Elise
German Nat Anthem
Sound Of Music
The Trout
Third man Theme