New Show :  CAMPAGNOLA BELLA
with new songs and dances.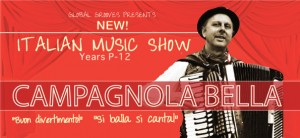 Filippo plays the fisarmonica (accordion) and sings songs and plays dances of Italy. He teaches the children simple choruses of folk songs from different regions of Italy.
From the Tarantella of Calabria to mountain  songs of  the north to romantic songs from Naples. Over 500 performances in schools.
He also plays great favourites such as Volare, Thats Amore, Finiculi, Marina ,Santa Lucia, Tinterella di Luna etc.
Children play percussion and join in dances such as the Tarantella, Chicken Dance and  La Raspa (Hat Dance)
Filippo has a rhythm backing and sounds system  for dancing etc.
CD song words and 36 page booklet of worksheets supplied.
Can also rove around classrooms for Carnivale  Day and he often does lunchtime concerts outside for students.
Lunchtime Entertainment Concert also available
(supplying sound system , can be outside)
Filippo on Video
With La Voce Della Luna:
This show has been run in over 300 schools including Lalor Park PS, Newport Lakes PS, The Grange P-12  PS, Yarraville West PS, Mooroopna Park PS and Penola College Glenroy.
Phil Carroll , an experienced Primary Teacher,  has played Italian music for many years in clubs,  restaraunts and parties around Australia. He has conducted the choir "La Voce Della Luna" and  performed in the classic Italian musical "Emma Celebrazione" , the Lygon Festa and The Crown Italian Festival.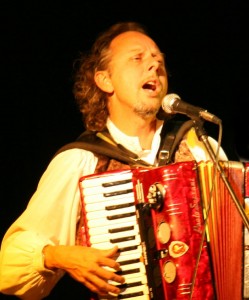 "The show was terrific.Good flow from one segment to the other.  Kids loved it (so did staff)"Epping PS

"The children loved it.It brought colour and  flavour to the day"   Nunzia Esposito, Brighton PS

"Everyone enjoyed the folk songs and dances. He will certainly be recommended to other LOTE teachers for his performance on Italian folk song/ dance. Thanks." Mary Karakatsanis, St Augustine's School, VIC.

"Most teachers and students enjoyed the program. Filippo is very accomplished at playing Italian Folk Music & was flexible with choice of songs & duration of program."Rosanna Bagnato, Donburn Primary School, VIC.

Thank you very much for your lively performance .The students and the staff had a great time. It was great to see so many of the students participating as many times they are so quiet. Joan Marcan, Werribee Secondary College.Year 7-12
Booking details
  COST:
$600 (audiences up to 130 students). $5 per student over 130.
If more than one show booked in a day :$525 per show (additional students $5 each).
WORKSHEETS are provided for  show
LENGTH OF SHOW 50 -60 minutes.
NOTE:REGIONAL SHOWS AN EXTRA TRAVEL FEE IS CHARGED