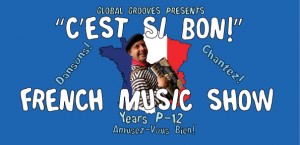 Age Range: P-12
From Paris to Provence. From Django to Java
The show is suitable for students 5 to 17 years of age and is designed to fit comfortably in a double classroom or hall.
Length of show : 45-50 minutes
Philippe presents a vibrant and colourful journey through the history of French music and dance.
A travelogue of different regions of France by their folk songs  (Bretagne, Provence, Auvergne, Languedoc, Paris)
Possibility to join in regional and medieval  folk dances, such as Bouree and An Dro (Bretagne)
Philippe  also teaches songs and dances from other French speaking countries (eg. Quebec and Louisiana)
Philippe has a rhythm backing and sound system for dancing etc.
Philippe is also available for roving around classrooms for special events  and he often does lunchtime concerts outside for students.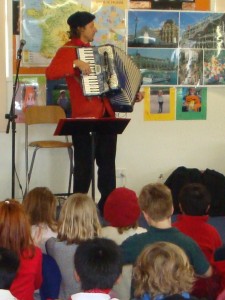 Past Performances include:  Mowbray College Melton, St Francis Xavier PS East Ballarat, Mt Scopus Burwood, Montpelier PS Geelong, Yarra Valley Grammar, Westall Secondary College, Ruyton Girls School, Girton Grammar Bendigo, etc
Your performance was simply brilliant. Students and staff loved it. Somehave asked me to teach them some of the songs again.Thank you so much for coming to our school with such a vibrant, educational and engaging show. Marjory Trives, Montmorency Secondary College

Fantastic energetic show which students and staff enjoyed due to Phils energy and enthusiasm.An extremely worthwhile incursion for lovers of European culture!   Montpelier School , Geelong

 It was a nice mix of music and dance with a bit of history and geography thrown in.  Anna Favrin, Head of Languages , Penola Catholic College

Throughout this whole performance everyone had a great time dancing, singing in French and playing instruments.     j  student year 10  Penola Catholic College

C'est Si Bon was a wonderful experience for all the children and teachers.We had very positive feedback from all year levels and most students were still doing the "can can" the following week. Felicity Renaudin, Xavier, Brighton

Thanks for a wonderful concert. Very engaging and fun for the students, especially the dancing      Kylie  Weightman, ballarat christian college

I would like to thank you for the wonderful show you put on for our students. They just loved the dancing   and   songs and were thoroughly engaged. It was the highlight of the week. Eva Anderson, French Coordinator , Toorak Primary School

The week was ended with a marvellous French music show for all year 7 and 8 students. Musician            extraordinaire Philippe Carroll, regaled with an array of songs and created a disco-style atmosphere with   his    whole-group dance activities. Phil Hosking, Head of Languages, Shelford Grammar, Caulfield.
 Philippe, an experienced Primary Teacher, has performed French music for many years in clubs restaraunts and parties around Australia. He has performed on 5 series on SBS-TV with Gabriel Gaté "Taste de Tour" (Tour de France). He performs with the French group Bric-a-Brac and French musicians : Ced LeMeledo, Christphe Genoux and Francois Rogeou.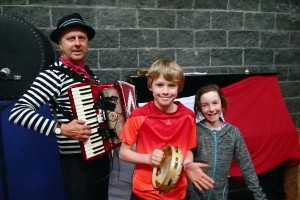 Philippe at National Gallery of Victoria. Show  for 10 schools.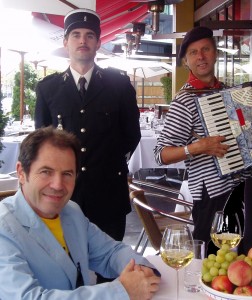 Philippe on Taste le Tour with Gabriel Gate
      Also link for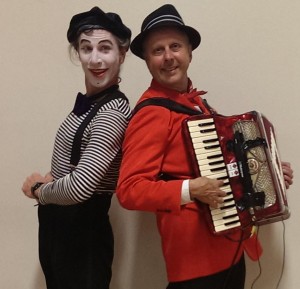 Booking details for solo show:
  COST:
$600 (audiences up to 130 students). $5 per student over 130.
If more than one show booked in a day :$525 per show (additional students $5 each).
The SOLO Shows are suitable for students 5 to 15 years of age.
LENGTH OF SHOW 50 -60 minutes.
NOTE : FOR REGIONAL SHOWS,  AN EXTRA TRAVEL FEE IS CHARGED.
Duo show : email us for prices.