"a convincing Melbourne trio… with plenty of interplay and improvisation" | Doug Spencer, ABC Radio National, The Weekend Planet
"Cygnet festival director Steve  Gadd, who named … Camoon (now Alwan)  … as this year's best acts" | Hobart Mercury, January 11, 2010
Personnel
Alwan (Arabic: colours)  with
Yuval Ashkar (Israeli oud player/ singer/ percussionist)
Phil Carroll (accordion, ney flute, duduk, vocals, ex-"Yalla" )
Matt Stonehouse (percussion)play sublime Turkish, Arabic and Israeli music.
Listen
About the band
Yuval Ashkar trained with oud master Yair Dalal and has performed with sublime Ladino singer Yasmin Levi. He moved to Australia 6 years ago and recently moved to Melbourne from Byron Bay.Yuval has played  in many festivals arround Australia with great  musicians including Cleis Pearce, Greg Sheehan, Tunji Beier, Kurdish Earth and more.
Phil Carroll has recently returned from living in Turkey where he studied ney and worked as a musician in weddings, cafes and sufi ceremonies. He was leader of the Melbourne middle-eastern band Yalla! for 10 years , who played festivals in every Australian state.
Matt Stonehouse (The Reefers, Unified Gecko, Fingers of Fury) has worked extensively throughout Melbourne to great acclaim in a variety of  percussive styles .He studied drumming overseas in Turkey and Iran
Alwan have played at  Cygnet fest(Tas.), National Folk Fest(Canberra), Mullumbimby Fest, Firelight fest, Biennale 2019 NGV, Woodend Winter Arts Fest,  Peninsula music Fest, opening  of "Imagining the Orient" touring exhibition, supported Mercan Dede – Vic Arts Centre, Melbourne Food and Wine Festival, a  five year residency at Claypots St Kilda, Vic Market Night Market , Maha restaurant and other events.
Their version of Foug el Nakhal was performed on the feature film "Ali's Wedding".
What people are saying…
"I really love the CD – some excellent sets." Malcolm Fielding , indie-cds.com
"absolutely relaxing,  beautiful music" Gabriele Urban, Trans Europa Express, 3PBS-FM
"a great CD"    Mike Glover, Border Crossings, 3PBS-FM
"I approached with skepticism but I think its great. You've put a real bluesy feel to this music." Richard Field, Local and Live, 3CR radio.
"what a lovely surprise to get your new CD Alwan. I have just finished listening to it, and am still bobbing my head and smiling." Lindsay Coker, 3MBS-FM
"The CD is so beautiful…"  Brahim Benhim , Music Sans Frontieres,  3CR radio.
"fantastic gig at the Boite last Saturday night with Alwan." Damien O'keefe. Across the Planet. 3mbs-fm.
"What a beautiful band. Its a totally beautiful CD.  It's old world. There's not one track that shouldn't be there". Kavisha Mazella, ARIA award winning singer.
It was such a pleasure to have you play at our wedding. We had so many people ask us about your band. Genevieve & Karim
Corporate functions
Alwan also work with dancers for corporate functions and events:
Alwan with with Underbelly at Crown 2011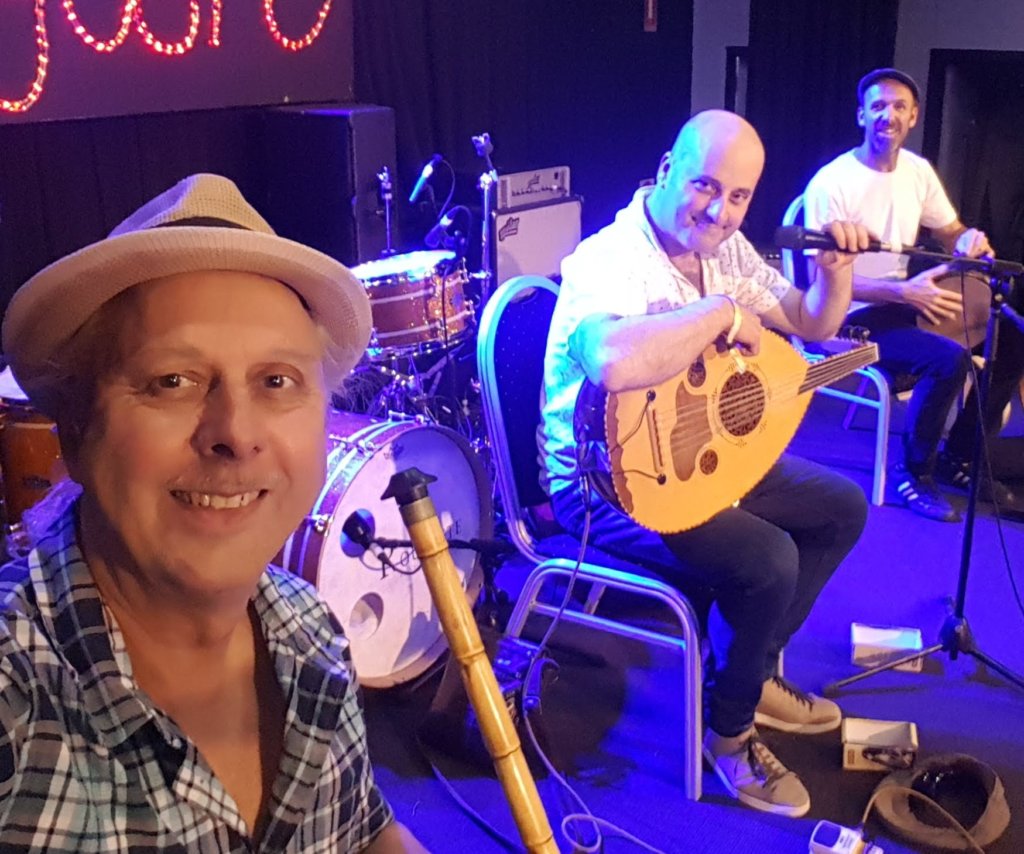 Buy our Cd on Amazon
or from Readings Carlton