Phillipe the accordionist sings in French and plays French tunes on his wonderful accordion.
Performances
Festivals, restaraunts and shopping centres and many school shows including Chez Bob, The Treasury, The 2001 Lord Mayors Ball, The Park Hyatt, The Chiefley, Vodka, Borsht and Tears, Les Halles, Cafe de France, New Zealand and New Caledonia tours and many others.
He has made 60 appearances on SBS-TV with Gabriel Gate Taste Le Tour and performed many French school shows.
Quotes
It was ze Paris end of ze Members Stand as an accordionist in a beret and a striped shirt strolled around the crusty old Long Room playing French music. Edith Piaf , you should have been there! Ron Reed , Herald Sun, Melbourne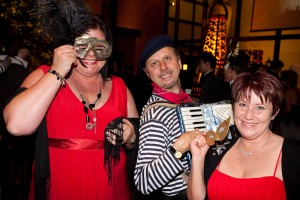 Philippe was amazing, and everyone was so happy with his performance .He was spot on with the repertoire ,the presence , the outfit. Lyceum Club
Thank you thank you!The afternoon was fabulous; the comments and feedback were very positive. One clients wife thanked us as she had not had a dance with her husband for 14 years and really appreciated the opportunity… well done! Janice Poynton- Bayside Council
THANKYOU for bringing in Bastille Day at WTC Wharf! You were so entertaining and we have had so much postive feedback from our tenants about how funny you were! We will be sure to bring you back again soon!
Great feedback on your performance. Joan Joyce , the Red Hill Longest Lunch 2011
I knew the entertainment was a hit when I was in the buffet room and could hear the guests all singing at the top of their lungs. I am still congratulating myself on my choice. Joanna Carson, Melbourne Seamans Mission
Philipe was great. He played well and the guests enjoyed his music. We eventually managed to get Mum up for a dance at the very end, so that was a great finale at the end of the entertainment.Thanks once again for helping out at short notice. Franca Moffa
French Duo with French saxophonist Christophe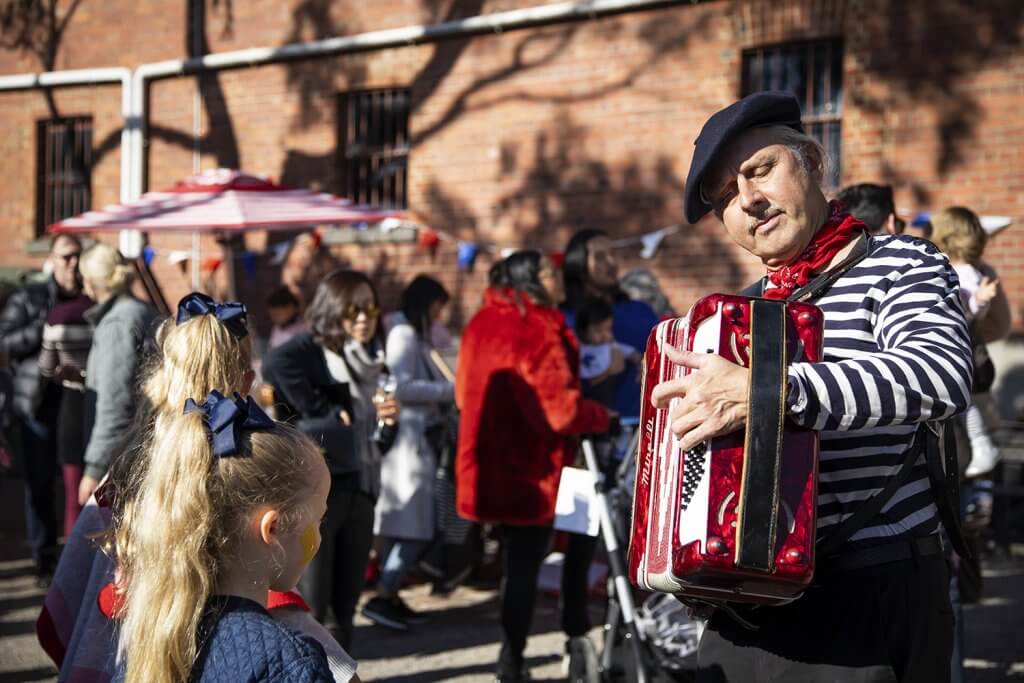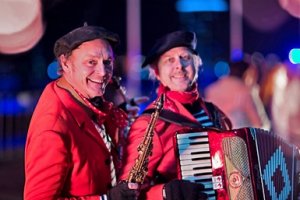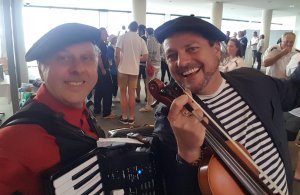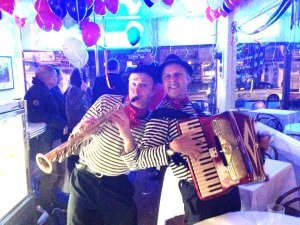 Repertoire
I take requests!!!
A Man And A woman
Ah le petit vin blanc
Alouette
Amelie
Au pres de ma blonde
Autumn Leaves
Can Can
Carmen
C'est Si Bon
Chanson D'Amour
Charade
Chevaliers de la table ronde
Circus Waltz
Claire De Lune
Comme D'Habitude (My Way)
Dance The Old Fashioned Way
Dominique
Escapade (Java)
Fleur De Jean
Freres Jacques
Gymnopedie
I Wish you Love
I Love Paris
I will Wait for You
If I Stay Forever
Jalousie
J'Attendrai
Je ne Regrette Rien
Je Ne Veux Pas Travailler
La Mer
La Bicyclette
La Bouree en Auvergne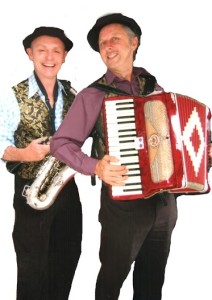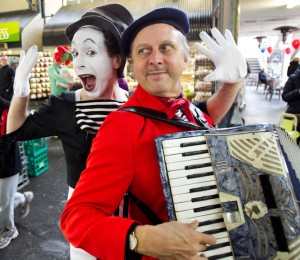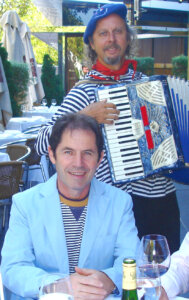 La Foulle
La Goulante de Pauvre Jean
La Seine
La Vie en Rose
L'Accordioniste
La Haut Sur La Montagne
Le Bretagne de Grenoble
Le Marsellaise
Les Filles de la Rochelle
Les Champs-Elysses
Les Copains D'Abord
Les Mis: Do You hear The People
Les Mis:I Dreamed A Dream
Les Mis:On My Own
les Negresses Vertes Waltz
L'Hymn L'Amour
Libertango
Louise
Ma Bella Marguerita
Mademoiselle de Paris
Michelle
Milord
Minor Swing(Hot Club)
Moulin Rouge
Ne me Quitte Pas
Padam
Paris Tango
Petite Fleur
Pigalle
Plaisir D'Amour
Que Reste-t-il
Santiano
Se Canto
soir de Paris (Valse musette)
Sous le Ciel de Paris
sous le Pont D'Avignon
Sous Les Ponts de Paris
Thank Heavens For Little Girls
The night they invented Champagne
Third Man Theme
Tit Galop
Titine
Un Homme et un Femme
Un violin de la Nuit
What Are You Doing Rest Of y Life
What Now My Love
Windmills of my mind
Jazz/Swing
Aint Misbehavin(vocals)
Beginning To See The Light
Don'tMeanAThing(vocals)
Is You Is(vocals)
Makin Whoopee(vocals)
Minor Swing
My Blue Heaven(vocals)
Pennies From Heaven
Please Dont Talk About Me
Polkadots and Moonbeams
Sentimental Journey
T'aint What You Do
The Glory Of Love
Jewish
Ale Brider (vocals)
Bei Mir Bist du Schon(vocals)
Fiddler On The Roof
Hava Nagilah(vocals)
Klezmer Tunes
Mazeltov
Shalom Alachem(vocals)
Tum Balalaika (vocals)
German
Beer Barrell Polka
Ein Prosit
Luxemburg Polka
Valerie Valera
Classical
Boccherini
Cavatina
Habanera
Liebestraum
Pachelbel's Cannon
Strauss Waltzes
Anglo/Folk
Jig Medley
Reel Medley
Londonerry Air
Ashoken Farewell
Sailors Hornpipe
Irish Waltzes
Irish Eyes(vocals)
Danny Boy(vocals)Gr
Greek
Never On A Sunday
Ruby My Love
White Dove Of Athens
Zorba

Gypsy/Russian
Czardis (Monti)
Czardis (Russian)
Dark Eyes(vocals)Hungarian Dance no.5
Kalinka(vocals)
Katuisha(vocals)
Lara's Theme
Those Were The Days(vocals)
Troika Medley
Italian
Arriverderci Roma
Bella Ciao:
Calabrisella Mia
Campagnolla Bella:
Cappricioni Italiano
Carnival Of Venice
Chicken (Duck) Dance
Ciao Ciao Bambino
Come Back To Sorrento
Come Prima
Come Tu Facetta Mametto
ConTe Partiro (Bocelli:)
Cuiccio Bedu:
Finiculi Finicula (vocals)
Forget About Domani
Godfather Theme
Isle Of Capri
Libiamo (Verdi)
Love Story
Mambo Italiano(vocals)
Marina(vocals)
More
Nessun Dorma
Non Dimenticar
O Solo Mio
Quando quando
Que Sera
Ragazzioni(Veni Veni)
Romeo and Juliette
Santa Lucia
Tarantellas (vocals)
That's Amore (vocals)
Three Coins in The Fountain
Tiamo
Tiribomba
Un Mazziolini Fiori
Volare(vocals)
Latin
Bessame Mucho(vocals)
Black Orpheus
El Cumbenchero(vocals)
Hernando's Hideaway(vocals)
Jealousy
La Paloma
Perfidia
Sway
Tangos
Tequila
Y Viva Espana(vocals)
plus
Serbian
Polish
Croatian
Arabic
Turkish
Macedonian
Christmas
Oldtime
etc.