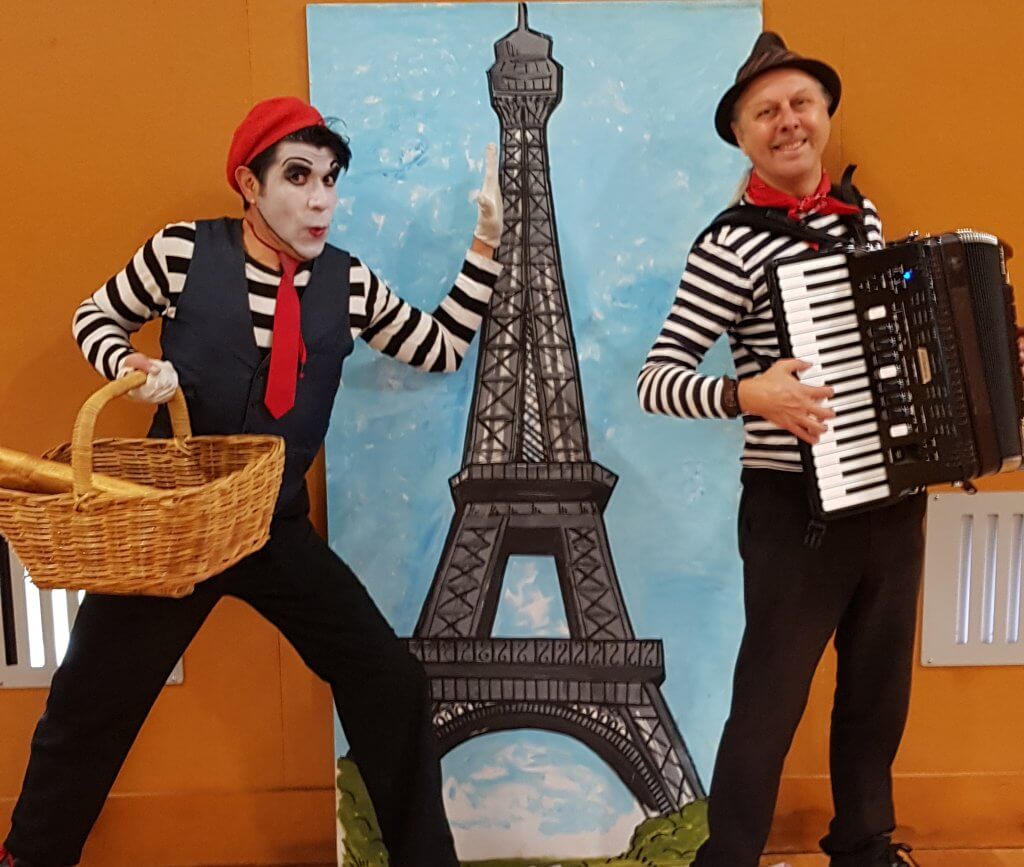 Combining French music, mime, comedy, drama and magic. With audience participation, these experienced performers take students on an hilarious journey of French drama and music. Using accordion, fife, drum, bombarde, singing, magic and mime.
Jacques the mime, has performed all around the world and australia as mime artist and magician.He combines with the talented musician Philippe to produce educational and interactive theatre . They also will demonstrate music and dance from regions of France, with sound system and rhythm backing
(These shows are suitable for students P-12)
LENGTH OF SHOWS : 50-60 minutes
"It was great having you guys perform for our Year 8's. The students really enjoyed the performance." Eva Tatray . Lalor Secondary College
"The whole school were mesmerised by the performance. Thanks again for your great show."Pam Stosic, St Francis School, Baranduda.
Thank you, the performances were marvellous, the children raved about them. Gina Nero , St Augustines, Wodonga
Thank you for today, the kids absolutely loved it!!! They were buzzing when they came back. We had a great afternoon exploring how we express ourselves, and we are excited for more next week. Thank you for the great immersion. Cassie , French Teacher , Aspendale Primary
7A & 7H had the wonderful opportunity to attend the French incursion and learn loads about the French culture, while still having fun! The incursion included songs with French instruments, sing-a-long songs, awesome dances that everybody joined in, and best of all, a real mime artist! He mimed to us many adventures and soon had all of us laughing, he was very convincing indeed! Overall, it was an amazing and educational experience. Student , Penola College, Glenroy
"THANKYOU Jacques & Phillipe for bringing in Bastille Day at WTC Wharf! You were so entertaining and we have had so much postive feedback from our tenants about how funny you were! We will be sure to bring you back again soon!" Kathryn, World Trade Centre.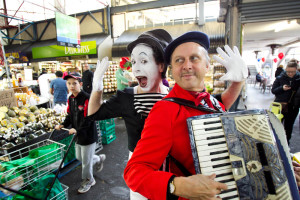 Jacques (Rod Lara) . Rod is an actor, physical comedian, mime artist, clown, filmmmaker and visual artist .He has unique brand of comedy, utilizing the skills of physical comedy, circus arts, mime and dance. Trained in the circus arts, as well as holding a degree in Film & Television from the Victorian College of the Arts. Rod Lara's Mime even appeared in the 2013 Great Debate as Paul McDermott's mime double.Rod wrote and performed in his solo mime show "Last Mime Standing" for both the 2014 Melbourne Comedy Festival and 2014 Melbourne Fringe Festival. Other credits include performances for Opera Australia's many productions.He has also made regular appearances on television, including the "2013 The Great Debate", "Jumping Jellybeans" and numerous commercials as well as acting parts in two US TV series in 2016, "Childhood's End" and "Hunters".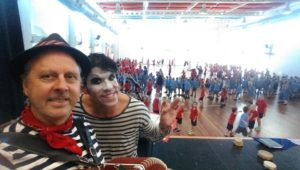 Philippe , (Phil Carroll) , an experienced Primary Teacher, has performed French music for many years in clubs, restaraunts and functions around Australia. He has performed on 5 series on SBS-TV with Gabriel Gaté "Taste de Tour" (Tour de France). He performs with the French group Bric-a-Brac and French musicians : Ced LeMeledo, Christphe Genoux and Francois Rogeou.
Past Performances include: Mowbray College Melton, Mt Scopus Burwood, Ruyton Girls School, Deepdene PS, Sacred Heart Kyneton, Ivanhoe Grammar, Mordialloc Beach PS, Packenham SC, St Alipius Ballarat, St Augustines Creswick, Mornington Park PS, etc
The shows are designed to fit comfortably in a double classroom or hall.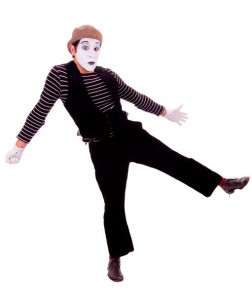 COST::
DUO :.$900 (audiences up to 130 students). $7 head for students in excess of 130.
If more than one show booked in a day :$825 per show (excess students over 130 : $7/head).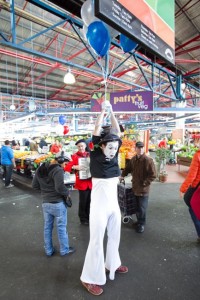 To make a booking ring Mob: 0412148906
.
PLEASE NOTE: Country bookings may require an additional travel fee